¿Cuántas palabras se necesitan para comunicarse?
How many words do I need to know to be fluent in any language?
The answer is not so simple, but we will try to reveal the expert opinion on this topic.
The coach of the England national football team, Italian Fabio Capello, said that he needed only a hundred words to manage his team.
Of course, you can laugh thinking about what kind of words he uses. But jokes aside, in 1960, the famous American children's writer Theodore Seuss Geisel (better known under the pseudonym Dr. Seuss, author of The Grinch Who Stole Christmas) published the book Green Eggs and Ham. He wrote the book using only 50 words. It was the result of an argument between Seuss and his publisher, Bennett Cerf. The publisher believed that Seuss would not be able to create a finished work under such harsh conditions (before that, Seuss had already written "Cat in the Hat", which featured 225 words.
But, How far can you go with such a limited vocabulary?
Peter Howarth, Deputy Director of the Language Center at the University of Leeds in England, said
About a hundred words is enough just to cover situations like those that appear in a phrasebook and are used to spend a weekend abroad: how to book a hotel room or how to order a dish in a restaurant. But to communicate at a more advanced level, you need at least 1500 words.

Peter Howarth
However, according to Fiona Douglas, professor of English at the University of Leeds,
an advanced student can cope with an average of 7 500 words, and a beginner with 2 000.

Fiona Douglas
Marco Martos, President of the Peruvian Academy of Language, states that
on average, about 300 words are used in everyday communication.

Marco Martos
In general, the levels of knowledge of a foreign language can be described as follows:
Beginners: 250-500 words.
Communication on everyday topics ensures confident possession of a small number of keywords.
Intermediate: 1000-3000 words.
With 1000 words, you can have more complex conversations with native speakers and solve everyday life situations.
Advanced: 4000-10000 words.
With over 3000 words, you will begin to familiarize yourself with a more specialized type of vocabulary. You will be able to talk about current news, give your opinion and describe abstract concepts.
95% of general texts cover a vocabulary of only 3000 words.
Fluency: 10000 words.
From that moment on, a foreign language becomes almost like a native one for you. You will learn words that will allow you to express yourself in detail on almost any topic. In addition, you will have the opportunity to use metaphors and idiomatic expressions to express your thoughts better.
Native speaker: more than 10000 words.
The number of words used by a native speaker varies from one language to another, so it is difficult to accurately assess the words that a native speaker knows. Of course, keep in mind that different languages have different amounts of words and the levels of different people can vary greatly.
How many words are there in the Spanish dictionary?
More or less than 283 000. The main dictionary of the Spanish language, which includes only words common to all Spanish-speaking countries, has 50 000 words.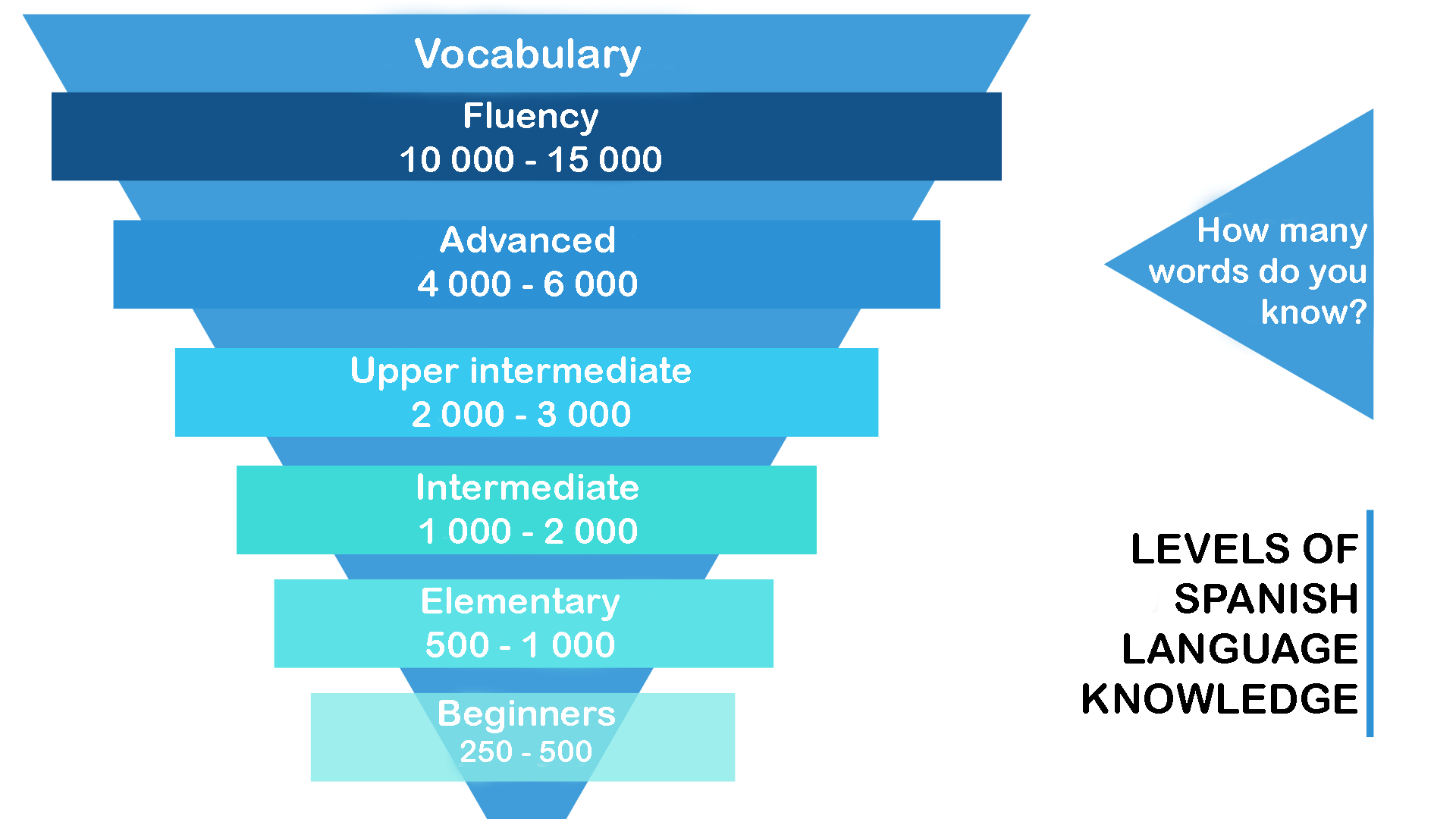 By the way, after completing only SPANISH COURSE 1 you will get 1000 words in passive vocabulary.
Expand your picture of the world, break the glass ceilings, improve, learning one of the most beautiful and most straightforward languages in the world! Spanish with Maestro24 is the next level!